My picspam for the challenge at
shonda_land.
DO NOT REPOST. Anywhere. If I wanted it them on tumblr, fanpop or anywhere else I would post them there myself. Posts will all be friends locked from now on after a week (or in this case, once this challenge has finished), as my stuff is popping up all over the place completely uncredited, not cool guys!
So please join :) Comments and members make me happy.

& onto the spam...


CALLIE: Daddy...Is that Father Kevin?
FATHER KEVIN:Hello Calliope.
CALLIE: Are you two here to...You think you can pray away the gay.
CARLOS TORRES: If we can just sit down and talk...
CALLIE: You can't pray away the gay.
CARLOS TORRES: Calliope Iphigenia Torres.
CALLIE: YOU CAN'T PRAY AWAY THE GAY.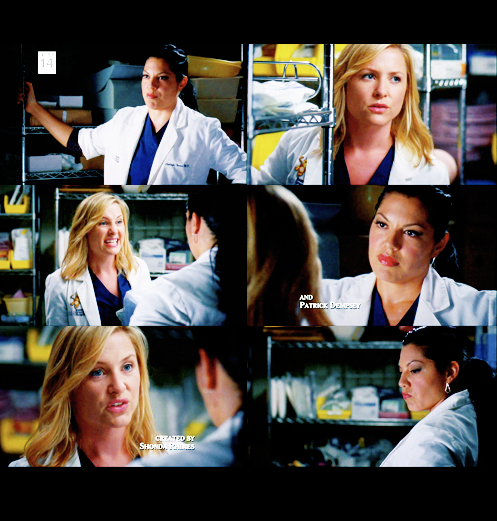 ARIZONA: He's been consistent for 30 years, and all of a sudden - you're a whole new girl. So cut him some slack, sit down and have a conversation, give him room to be a little shocked.
CALLIE: I hate you.
ARIZONA: Because I'm right. And I'm awesome.




ARIZONA: Didn't go well, huh?
CALLIE: Well at least now I can move on with my life, stop entertaining any thought of getting back together with my family. I don't need a father, I don't...not one who won't accept me.


Most people think that I was named for the state, but it's not true, I was named for a battle ship. The U.S.S. Arizona. My grandfather was serving on the Arizona when the Japanese bombed Pearl Harbor, and he saved nineteen men before he drowned. Pretty much everything my father did his whole life was about honoring that sacrifice. I was raised to be a good man in a storm. Raised to love my country. Love my family. Protect the things I love. When my father, Colonel Daniel Robinson of the United States Marine Corps, heard that I was a lesbian he said he only had one question. I was prepared for "How fast can you get the hell out of my house?" But instead, it was "Are you still who I raised you to be?" My father believes in country the way that you believe in God. And my father is not a man who bends, but he bent for me because I am his daughter. I'm a good man in a storm. I love your daughter. And I protect the things I love. Not that I need too, she doesn't need it. She's strong, and caring, and honorable. And she's who you raised her to be.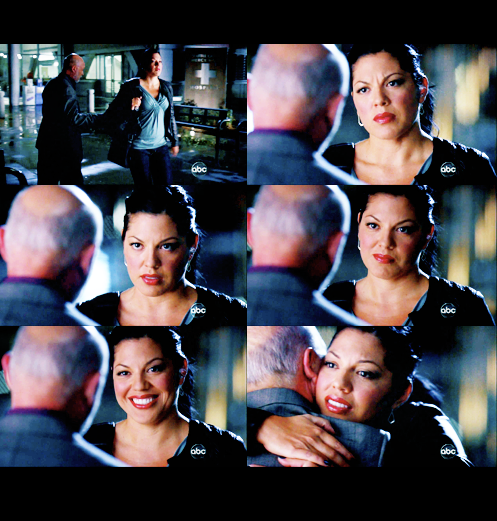 CARLOS: Calliope.
CALLIE: I can't do this anymore. You'll, you know, see me in hell.
CARLOS: I have to catch you.
CALLIE: What?
CARLOS: Your whole life- you've always been on a bridge, Calliope- ever since you were a little girl. And you don't just walk on it either. No, you climb on the railing and you're ready to leap. And when you do- when that happens- I have to be there. I have to catch you.
CALLIE: You don't have to catch me, Dad.
CARLOS: Yes, I do. It's my job. Listen, if this works out between you and Arizona, is there a chance maybe, you'd, uh, give your mother a wedding?
CALLIE: If Arizona wanted to spend the rest of her life with me- yeah, I'll put on a big white dress and dance down the aisle.
CARLOS: How about grandkids?
CALLIE: Yes, I would imagine when the time came, there would be kids.
CARLOS: Does she make you happy?
CALLIE: Yes, Dad. She makes me very happy. I love you, you know that?